Whether you're shooting documentaries, events, reality TV, education, or corporate productions, the PXW-FX9 XDCAM 6K Full-Frame Camera System from Sony has you covered with its powerful and flexible 4K interchangeable lens camera system. The PXW-FX9 features a full-frame, oversampled 6K Exmor R CMOS sensor that allows you to capture 4K images with cinematic depth of field. The camera's E-mount is machined from stainless steel and allows you to use E-mount lenses.
The PXW-FS7 reflects years of intense conversations we've had with documentary shooters. In response, we completely redesigned the grip, improved the viewfinder, optimized the balance and refined the ergonomics. Of course, the FS7 also reflects Sony's expertise in 4K and HD codecs, Super 35 sensors and memory recording. The result is the ideal camera for documentaries and the optimum tool for magazine shows, reality TV, unscripted TV and more.
Sony A7S II Full-frame Mirrorless Interchangeable-Lens Camera
The A7S II has evolved in both Stills and Movies adding internal 4K video recording (1), uncompressed 14-bit RAW, 5-axis image stabilization, High-speed AF while maintaining its legendary low-light capability.
Ultra Fast. Ultra Light.
The Voigtlander prime set has solidified itself in the world of cinematography. With an F Stop of .0.95 these lenses will have incredible shallow DOF and Bokeh. Small and lightweight these are ideal for stabalizer shots or handheld as well.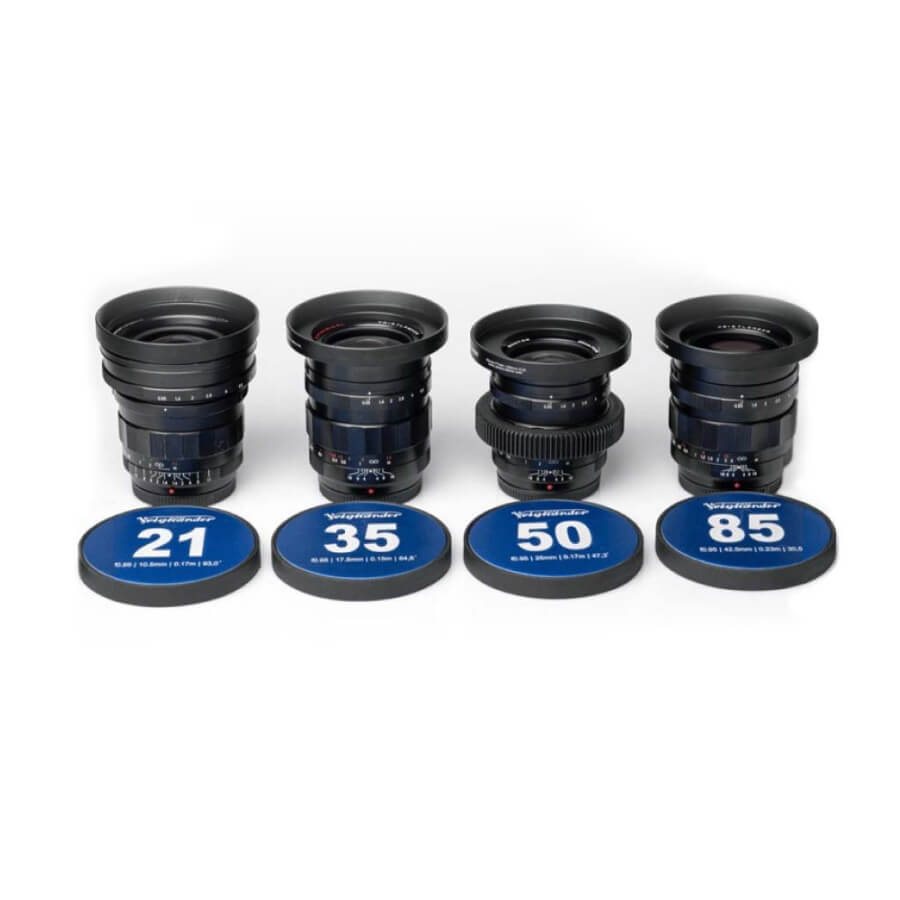 Fast. Modern. Beautiful.
Tokina Vista Cine Zooms resolve 4k with ease. At T2.9 the lenses are fast. Durable and beautiful you can trust these modern zooms for any project.
The EZ-2 15-40mm Cinema Lens Pack from Angenieux includes the PL mount version of the 15 to 40mm EZ-2 zoom lens with both the Super35 and FF/VistaVision rear lens-groups. The lens is fast, T2.0 in Super35 and T3.0 in full-frame/VistaVision. Swapping between the rear lens groups doesn't affect the physical length of the lens, minimum focus distance, or 2.7x zoom ratio. However, the full-frame rear lens group does change the lens from a 15 to 40mm zoom that covers Super35 to a 22 to 60mm zoom that covers the full-frame/VistaVision aperture.
Angenieux's EZ-1 30-90mm S35 Cinema Lens with PL Mount is a fast zoom for 3-perf Super 35mm sized sensors. This version of the lens ships with a PL mount and the Super 35 rear optical assembly. Optional lens mounts allow you to swap the lens mount from PL to Sony E or Canon EF. It features a T2.0 aperture and focuses down to 2' in front of the image plane while weighing in at only 4.7 pounds. The 114mm front diameter of the lens is a common diameter compatible with cinema-style matte boxes. The lens features independent focus, iris, and zoom control rings with cinema standard gear teeth. A removable support foot can be repositioned for when you need to rotate your lens off of a standard mounting orientation.
Equipment Type: Stabilizers
DJI Ronin M Gimbal Stabilizer
Capture shots with DJI Ronin-M 3-Axis Handheld Gimbal Stabilizer that are impossible with any other setup. Switch effortlessly between the 3 modes of operation, without adjusting any settings or needing a 2nd operator remote. Weighing just 5 pounds (2.3kg), about half the weight of the original Ronin, the slimmed down Ronin-M is small enough to fit into your backpack and take anywhere, yet strong enough to support camera setups weighing up to 8 pounds (3.6kg). Save time and start shooting professionally stabilized video in less than 5 minutes.
Equipment Type: Stabilizers
DJI Ronin S Camera Stabilizer
The Ronin-S stabilizer for DSLR and mirrorless cameras empowers creators to shoot with the freedom of stabilized shots on the move. It has been rigorously tested to support a payload of 8lbs / 3.6 kg while still achieving a smooth, cinematic shot. Offers a suite of advanced capturing features to unleash your imagination like Panorama, Timelapse, Motionlapse, Track. The Ronin-S gives independent filmmakers the power to capture spontaneous moments with clarity, smoothness, and a refreshing perspective.